The No 1 G5 smartwatch is a relatively obscure, and budget-friendly wearable. Depending on where you buy it, you'll spend anywhere from $30 to $50. Compared to the Apple Watch, Moto 360 2nd Gen, LG Watch Urbane, and Samsung Gear S2 Classic the G5 is a fraction of the cost.
That's because it is a no-name Chinese watch manufactured to be affordable.
Naturally, that dredges up a lot of questions. Particularly, is it worth the money, even though it is so cheap?
I can happily say if you're looking for something simple that just works the G5 is a great choice. Read the rest of the review to find out if it's a good watch for you.
The No 1 G5 is a smartwatch first, with optional fitness tracking features – they are nothing more than icing on the cake. The reason I am starting out the review this way is because while affordable, the G5 has its limitations. We will touch on those later in the review.
That being said, it's not a device you should buy for the fitness support alone. If you're looking for a budget-friendly smartwatch, then it's an option. If you want something more like the Fitbit, Garmin, or Jawbone trackers – then look elsewhere.
No 1 G5 Smartwatch Review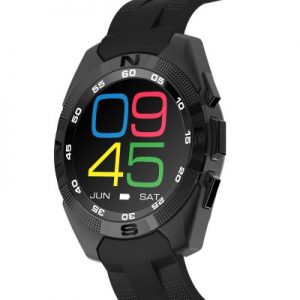 There are three models of the G5 available, one in black, silver, and another in gold. They are all made from the same materials, have the same specifications, and include the same band.
The only difference between them is the color, so don't feel like you're missing out by choosing one model over another.
The model used for this review was black.
But even at less than $100, the question remains: is it worth your hard-earned money? Read on to find out.
Overview
No 1 G5 Smartwatch Review

Overall: (3/5)

 

Build: (2/5)

Design: (3/5)

Tracking: (3/5)

Functionality: (4/5)

Compatibility: (3/5)
The No 1 G5 smartwatch works great and there are quite a few features packed into this affordable smartwatch. You'd be hard-pressed to find something at a comparable price. Sure, there are a lot of budget smartwatches on Amazon, eBay and the like but we wouldn't recommend wasting your money.
The battery will last for up to two days on a full charge, except under heavy use – and that's including an active connection to Bluetooth.
The watch is not water resistant, and the build is all plastic. The band is relatively comfortable and can be compared to a standard watch band you'd find on a cheap watch.
Even with the plastic makeup, it's pretty durable. I wouldn't recommend slamming this thing with a hammer or against the wall, but it should hold up to standard wear and tear well.
The display is a decent OLED (1.2 inches) running at a resolution of 240×240, and it's round. At the lowest brightness setting it's barely visible in the sunlight but at the highest setting it's great.
Features include notifications, remote calls, remote music playback, remote camera controls, and basic fitness tracking. The rear of the device has a cheaply made heart-rate tracker that's not totally accurate, but it works fine. There are a few extra features you'll want to know about too, which we'll discuss later in the review.
All around, it's a decent smartwatch and that's true even before you take into account the price.
Overall: 3/5 – The No 1 G5 smartwatch won't shatter records but it is a decent, reliable device which is more than you can say for most cheap electronics like this.
No 1 G5 Smartwatch Menu Gallery
Build
Make no mistake, this is a cheap device made of '316L' stainless steel and plastic. It doesn't have a water-resistance rating either, so I'm not even sure how well it would hold up against severe rain or sweat.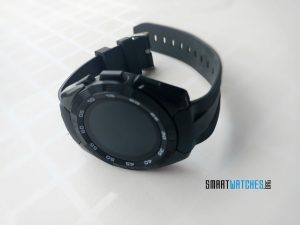 While wearing it, mine did come into contact with moisture and did fine but it was not splashed or submerged – so keep that in mind.
The band is made of a soft rubber-like material, while the clasp is a thin metal.
It is nearly identical to a cheap wristwatch that you would buy in a department store. The only exception being that it has a touchscreen and includes basic smartwatch features.
The screen is covered with a 'sapphire crystal' material that is 'anti-reflective' and 'abrasion-resistant'. I did notice a slight glare on the screen but it's certainly better than my phone, and no scuffs or scratches appeared during the review period.
There are three physical buttons on the right side of the watch face, and they are of decent quality. They don't appear to be flimsy, so I don't expect them to break or stop working after extended use.
On the left side is a thin micro-USB port for charging the watch. It comes bundled with a USB cable but not an adapter. You can charge it by plugging it into a computer, or using an existing adapter – provided you have one that takes USB cords.
While wearing the device – and I wore it day and night unless it was charging – the paint on the back began to wear off pretty easily. That leads me to believe the paint on the front could chip just as easily. I can't say this is something I'm personally concerned with because the watch is so cheap. Now if I had spent in excess of $150 for it, I would be quite irate – and it would be a considerable problem.
Build: 2/5 – The G5 is not totally indestructible but it is durable, especially for something that's so cheap. But the finish is questionable and might scratch or wear off eventually.
Design
The No 1 G5 is a traditional wrist watch in design.
While worn on the wrist, the only indication that it's a smartwatch is the fact that the screen is solid black – if it's off. Since there is an accelerometer inside the device, you can enable a setting that turns it on when you move your wrist or hold it up. This allows the display to turn on by itself. For an onlooker, this might be another obvious indication that it's a smartwatch.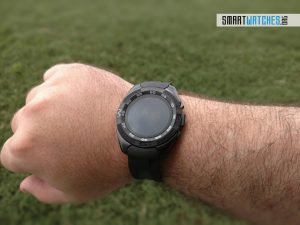 Otherwise, it looks like nothing more than a watch. That can be good or bad depending on how you feel about it. Personally, I like the design, especially the round display.
Around the bezel of the watch are second/minute-hand markers and four direction markers. The bezel does not rotate, despite the appearance it might. This is a nice added touch and gives it more of that watch feel.
The three buttons on the side are also indicative of a normal wrist watch. The center button turns the screen on/off and returns to the clock face. The top button opens the stopwatch app and stops or starts the timer if you press it again. The bottom button opens a pedometer app, which allows you to track your steps, physical activity, and calories burned.
The buttons are nothing more than shortcuts really.
To navigate, you use gestures and taps to interact with the touchscreen. A swipe from left to right will change screens, while a swipe in the opposite direction will move backward one context menu. Then, of course, you tap to interact with various options and elements on-screen.
Using the watch is simple and easy, and that matters. I wish I could say the same for the companion apps, but we'll get to that.
The No 1 G5 smartwatch is designed well for what it is.
Design: 3/5 – The No 1 G5 smartwatch looks like a regular watch until the screen is on. That could be good and bad, but I feel it's a good thing.
Fitness Tracking
To make this easier, I'll list the fitness tracking options that are available:
Pedometer
Heart-rate
Sleep tracking
Sedentary alarm
Now, it's important to remember that this is a smartwatch first. Because of that, the device is not constantly tracking your stats and activity. You have to open the related app and start a tracker. If you forget to start them, it's your loss – nothing is recorded. Not to mention, the companion app to report the tracked results is a bit screwy, but it works.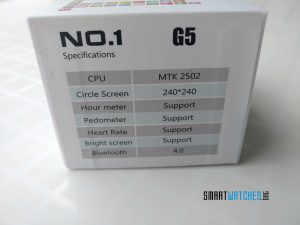 Once you start the pedometer or sleep tracker it will continue to monitor your activity until you stop it again. What makes it easier is that one of the physical buttons on the side of the watch opens up the pedometer right away.
The heart-rate monitor is not a continuous use. When you want to check your heart-rate you open the app, give it a minute to monitor and calculate, and then it returns the result. That's it. Unlike the fitness tracker there is no option to leave it monitoring your heart-rate during a workout.
All data is synced up with your Android or iOS phone via a companion app. It is a separate app from the one that delivers notifications and alerts. This means you need to have multiple apps installed on your phone to take advantage of all the features. That's just one of the reasons why I say the app is screwy.
There's also the matter of items and elements which are in – what I like to call – Engrish. No, not everything is translated into proper English well.
Still, everything works as advertised.
Tracking: 3/5 – Everything you need is there, plus a heart-rate monitor and sleep tracking. Unfortunately, you have to activate the trackers manually.
Functionality
The No 1 G5 smartwatch does everything as advertised and everything works. The only issues I ran into throughout the review period came from the companion apps. I will explain those shortly.
To turn the display on – assuming it's charged – you can press the middle button on the side, or you can simply move your wrist (if that option is enabled). The movement option is a bit finicky. Sometimes the screen will turn on with the slightest of movements, and other times you really have to shake your wrist. I didn't find this to be a problem, but you might.
The display is difficult to read in direct sunlight, but only when the brightness setting is at its lowest. If you turn the brightness up – and that does affect battery life – it's not so bad.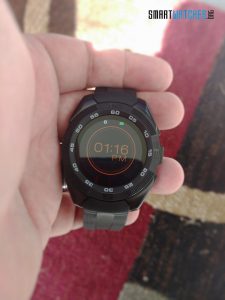 The first screen displays the current time, remaining battery, and various notification icons.
By swiping in any direction you can move from screen to screen. Each function is considered an app and has its own icon. Just tap on what you want and it will open the subsequent function.
To sync data with a phone you need to use multiple apps. One of the apps will handle the basic Bluetooth connection, notifications, calls, and messages. The other app tracks and beautifies the fitness stats reported. The benefit of this, I suppose, is if you only want to use certain functions you don't have to install both apps – if you do want to use everything it can result in a bit of clutter on your phone.
The apps are functional, and really that's all there is to say. There's nothing special about them, and the language used can seem silly. Instead of using the 'BT Notification' app I was supposed to I switched to the 'Mediatek SmartDevice' app. It worked great because the No 1 G5 uses a Mediatek 2502 chip.
The battery will last for up to two days on a full charge, even if you keep it synced via Bluetooth with your phone constantly. If you use the display a lot – including the apps and fitness features – the battery won't last as long, so keep that in mind.
I found it best to sync up the device occasionally and use the "smart" features when I was away from home. This allowed me to get notifications while my phone was in my pocket, and kept the battery life reasonable.
If you have notifications on, they will show up on the display temporarily. When the screen times out, they revert to a notifications sub-menu that you'll need to navigate to in order to see missed alerts. I find this convenient because it doesn't clutter the display with unread notifications, and they're just a few swipes away when you want to take a look. Call logs and SMS notifications are kept separate. Other notifications are stored under a 'notifier' menu unless you've read them – then they dismiss automatically.
Through the companion app, you can specify what apps are allowed to ping notifications to the watch so you have full control.
The watch can also take calls and send them – if you have a phone connected. There is a mic on the watch and the speaker is decent. I called several people during the review period, including my wife and she could hear me just fine. That's a bonus, especially if you intend to use this thing as a companion to your phone. The watch cannot make calls on its own, though.
There is a contacts app, but you have to be connected to a phone to use it. You can browse your contacts, choose one, and place a call to a stored number. It's simple, easy, and works.
Functionality: 4/5 – The No 1 G5 smartwatch has a lot to offer for a budget device! That's more than you can say for some of the expensive models.
Compatibility
For the most part, the No 1 G5 is compatible with a lot of devices. If you own an iPhone running iOS 8.0+ or Android 4.3+ with Bluetooth 4.0, you're in the clear.
The Android apps are available via Google Play, and the iOS apps via the App store. The watch also includes a small Qr barcode you can scan to download the apps via a browser.
My phone is a 2015 Moto X with Android 6.0 (Verizon).
Compatibility: 3/5 – The No 1 G5 smartwatch is compatible with most newer smartphones including iOS and Android.
No 1 G5 Smartwatch Review: Conclusion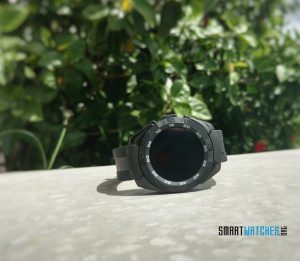 I will say, after a couple weeks of use I am extremely happy with it. Having never heard of No 1 before I got my hands on my G5, I would certainly buy from them again.
You may notice that No 1 has a huge selection of watches, all with different styles. I can't speak for the other models, but I would say choose one that matches what you want and go for it.
The G5 is way cheaper than most comparable devices, and it offers just as many features if not more.
If you're interested, here are the specs:
Hardware

Chip: MTK2502 (Mediatek)
Bluetooth 4.0
RAM: 128MB
ROM: 64MB
1.2" OLED display at 240×240 (touchscreen)
380mAh Li-polymer rechargeable battery
Weight: 0.050 kg or 50g
Package includes watch, user manual, and USB charging cable

Comes in 3 colors: Black, silver, and gold
Battery life: Up to 2 days (rechargeable)
Touchscreen display
Activity tracking:

Steps
Calories burned
Total active time
Total distance
Sleep
Heart-rate (not continuous)
Sedentary alarm (sitting or still for too long)

Smartwatch Features:

Call and text notifications
Place and receive calls via stored contacts or dialer
Anti-lost for phone – sets off alarm on phone to locate it
Access phone contacts remotely
Alarm, stopwatch, and calculator tools
Calendar and meeting reminders
Various app and social notifications
Vibrating alarms (on your wrist)
Remote media controls
Remote camera/shutter controls
No 1 G5 Photo Gallery
We hope you enjoyed our No 1 G5 smartwatch review and that it proved useful in your search for the perfect wearable. Stay tuned for more coverage!
Where Can I Get the No 1 G5 Smartwatch?
You can buy the No 1 G5 smartwatch from Geekbuying for $33.99. That's one of the cheapest prices we've found so far.
But if you'd rather buy from a seller on Amazon, you can do that, as well.
Disclaimer: Geekbuying graciously provided the No 1 G5 for this review.