Welcome to Smartwatches.org! We are your home to the most comprehensive resource of smartwatch information online! Take a moment to review our quick links section to the right and find what you are looking for as quickly as possible. We have highlighted our most valuable smartwatch links here. Our team of writers and developers are working to provide you the latest smartwatch news and tools. We hope you find our site easy to use. Please send us feedback using our contact page if you have any comments. Buying a smartwatch is a complicated decision. Our resources and support staff are here to help you on your journey.
Our site covers basic and advanced smartwatch topics on our learn about smartwatches page as well as the latest smartwatch news in smartwatch news. Looking for more detailed information on a particular smartwatch? Look no further than our smartwatch models page. What about compatibility? Have questions? Get them answered in our interactive Frequently Asked Questions page.
---
Recent Articles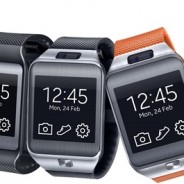 Samsung Galaxy Gear 2 Review Overall: (4/5) Build: (5/5) Design: (4/5) Customization: (4/5) Functionality: (4.5/5) Compatibility: (3/5) I have to admit, I snickered a bit when Samsung announced they weren't going to use the new Android Wear OS for their latest Gear models. The original Galaxy Gear was a decent device sure, but it had its shortcomings: mediocre battery life, an uninspired design, and a very limited supply of apps. That being said it was Samsung's first attempt at a smartwatch, which means one should expect a hindrance or...
read more
Expect telecom giant AT&T to jump big-time into the smartwatch biz later this year. That's the big takeaway from an interview this week given by AT&T's president of emerging devices, Glenn Lurie. He said the company has a group working in Austin, Texas on thousands of wearable device prototypes, and that "at some point" this year we will see a "wide-area, high-bandwidth" AT&T smartwatch hit the market. Lurie said the company sees the AT&T smartwatch as a "hub for wearable...
read more
Mobile has quickly become the next latest and great for advertisers and marketers. In fact, every advertising agency in existence is now targeting mobile in their future campaigns. It makes sense, especially considering everyone has a smartphone these days. What does that say about smartwatches? According to a recent study conducted by Nielsen, nearly 15% of consumers currently use wearable technology of some kind. How will advertising effect smartwatches? Take into account the recent unveil of Android Wear, which seems like it's going to be...
read more