Welcome to Smartwatches.org! We are your home to the most comprehensive resource of smartwatch information online! Take a moment to review our quick links section to the right and find what you are looking for as quickly as possible. We have highlighted our most valuable smartwatch links here. Our team of writers and developers are working to provide you the latest smartwatch news and tools. We hope you find our site easy to use. Please send us feedback using our contact page if you have any comments. Buying a smartwatch is a complicated decision. Our resources and support staff are here to help you on your journey.
Our site covers basic and advanced smartwatch topics on our learn about smartwatches page as well as the latest smartwatch news in smartwatch news. Looking for more detailed information on a particular smartwatch? Look no further than our smartwatch models page. What about compatibility? Have questions? Get them answered in our interactive Frequently Asked Questions page.
---
Recent Articles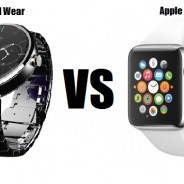 Apple finally unveiled their answer to Google's Android Wear platform, officially called the Apple Watch – not the "iWatch" as so many tech pundits believed. It's not a secret either that Apple has a lot of competition. In light of that, we've decided to pit the two platforms in a head-to-head matchup: Apple Watch vs Android Wear. Apple Watch vs Android Wear The smartwatch market is more than just a little saturated at the moment, with a ton of options already available and even more on the way. By the time...
read more
When is Apple going to come clean about the range of prices for all versions of the Apple Watch? It's got to be soon, since they are going on sale in January. Obviously Apple want us to bask in the apparent glory of these devices so that we'll be hungry enough to pay just about anything for them once they hit the shelves. But we wonder if people will be ready for the sticker shock when it finally arrives. Let's recap. Apple announced three distinct models of the Apple Watch. There's the classic Apple Watch, the Apple...
read more
Interesting article in Businessweek about the dynamics of Apple senior management, shedding some light on the company's approach to the Apple Watch. The article outlined the differences between CEO Tim Cook's collaborative, structured approach to product development, and his predecessor Steve Jobs' "it's all in my head" method. Jony Ive, Apple's Head of Design, said the Apple Watch project was conceived three years ago, shortly after Jobs' death, and long before "wearables" became a...
read more