Welcome to Smartwatches.org! We are your home to the most comprehensive resource of smartwatch information online! Take a moment to review our quick links section to the right and find what you are looking for as quickly as possible. We have highlighted our most valuable smartwatch links here. Our team of writers and developers are working to provide you the latest smartwatch news and tools. We hope you find our site easy to use. Please send us feedback using our contact page if you have any comments. Buying a smartwatch is a complicated decision. Our resources and support staff are here to help you on your journey.
Our site covers basic and advanced smartwatch topics on our learn about smartwatches page as well as the latest smartwatch news in smartwatch news. Looking for more detailed information on a particular smartwatch? Look no further than our smartwatch models page. What about compatibility? Have questions? Get them answered in our interactive Frequently Asked Questions page.
---
Recent Articles
We've recently seen a whole bunch of smartwatch models entering the market that skew towards the fitness band approach. Well here's one taking the opposite slant, a smartwatch-as-jewellery approach. Creoir is a Finnish company that makes and designs smartwatches, smartphones and other related gadgets for third-party manufacturers. During this week's World Mobile Congress they unveiled the Creoir Ibis prototype smartwatch. The Creoir Ibis combines smartwatch technology and jewellery design. It has a beautiful, stainless-steel...
read more
There looks to be a game of cat-and-mouse among smartwatch makers as the industry collectively waits for Google and Apple's entry into the smartwatch game. Last week we discovered that Samsung is dropping the Android operating system for its latest Gear smartwatch, instead opting for the new Tizen operating system. Now comes the rumor that Google is working on a special version of Android that is made specifically for operating smartwatches. According to reports, Google is planning to unveil the new Android smartwatch software as early...
read more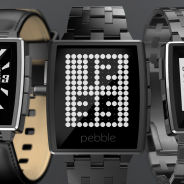 Pebble Steel Review Overall: (4.6) Build: (5/5) Design: (5/5) Customization: (5/5) Functionality: (4/5) Compatibility: (4/5) The original Pebble is simply put one of the best smartwatches on the market. Unfortunately, the body style and design leave a little something to be desired. There's no denying the fact that the case looks clunky and well… incredibly geeky. That's why it came as a welcome surprise when Pebble announced their latest models which feature stainless steel bodies instead of the chintzy plastic. Overview To be honest, there...
read more